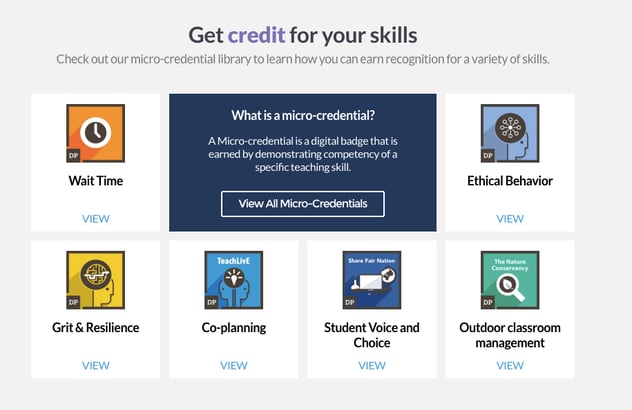 These days, it's never been easier for an educator seek out personalized, just-in-time learning resources to support challenges and goals unique to his or her classroom. And despite the time and rigor an educator may devote to their own professional growth, it's still uncommon to recognize individual educators for their individual skills in most professional development models.
BloomBoard and Digital Promise believe that every educator deserves to have personalized learning based on their goals, challenges, and interests. We also believe they should get credit and recognition for their skills and their efforts to become better educators. So we partnered with Digital Promise to create a place that enables educators to do just that.
We've launched a new micro-credential platform--powering personalized, competency-based professional learning. The platform provides educators the ability to explore and apply for more than 100 micro-credentials.
So, what's a micro-credential? A micro-credential is a digital badge recognizing an educator's competence in a specific skill, such as data literacy, teacher leadership, or Deeper Learning. To earn a micro-credential, educators select the specific competency they wish to develop, collect, and submit evidence of their competence, and receive recognition in the form of a digital badge; they can share with a principal or coach, or on social platforms.
The micro-credentials are sourced and curated by Digital Promise, a nonprofit dedicated to using research and technology to accelerate innovation in education, and they are developed and issued by content experts including Relay Graduate School of Education, Center for Teaching Quality, and the University of San Diego's Mobile Technology Center. We will continue to add new micro-credentials, so stay tuned!
To explore the micro-credential eco-system, visit microcredentials.bloomboard.com or learn more about competency-based professional development here.