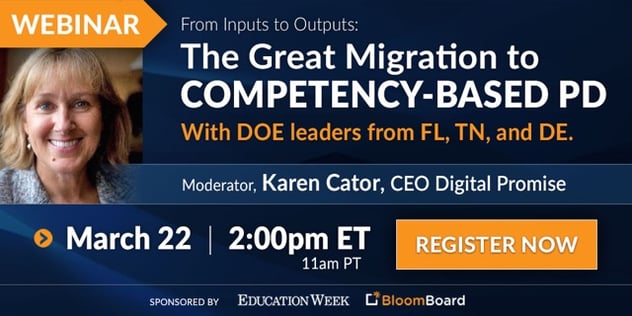 Traditionally, professional development systems have focused on the quality of professional development "inputs," such as money spent, workshops attended, or consultants hired, with little evidence of improvement or linkage to "outputs" associated with a change in instructional practice.
On Tuesday, March 22, we'll explore what a shift from focusing on professional development inputs to outputs entails, and how a competency-based approach using micro-credentials can help education leaders implement these changes in their local environments.
Karen Cator, CEO of Digital Promise and former Director of the Office of Educational Technology in the U.S. Department of Education, will lead a panel discussion with Assistant State Superintendents from the Florida, Tennessee, and Delaware Departments of Education. Each will discuss professional learning in their states, ideas regarding competency-based professional development using micro-credentials, and their views on the future potential impact on teacher quality and retention.
Webinar Title: From Inputs to Outputs - The Great Migration to Competency-Based PD
Presenters:
Brian Dassler, Deputy Chancellor for Educator Quality, Florida Department of Education

Dr. Kathleen Airhart, Chief Operating Officer and Deputy Commissioner, Tennessee Department of Education

Michael S. Watson, Chief Academic Officer and Associate Secretary of Education, Delaware Department of Education

Karen Cator, CEO of Digital Promise