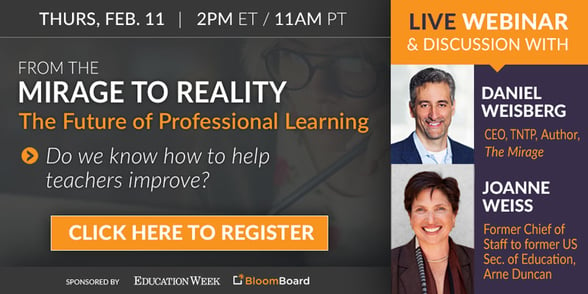 Over the past decade, numerous research reports have concluded that current teacher professional development and certification processes are outdated and ineffective. The latest report, The Mirage: Confronting the Hard Truth About Our Quest for Teacher Development (authored by TNTP), suggests that despite spending nearly $18,000 per teacher per year (or $67 billion nationwide) on teacher development efforts, teacher improvement is relatively infrequent and not tied to district interventions.
In this webinar, Daniel Weisberg, CEO of TNTP (formerly known as The New Teacher Project), will be interviewed by Joanne Weiss, former chief of staff to former U.S. Secretary of Education Arne Duncan, to discuss:
Where the field of educator professional learning is headed
What it means for districts to ask fundamentally different questions about what great teaching means and how to achieve it
Key insights of The Mirage report and how district administrators can translate findings into actionable strategies
We hope you'll join us on Thursday, February 11th at 2:00 pm ET for what is sure to be a lively and informative discussion.