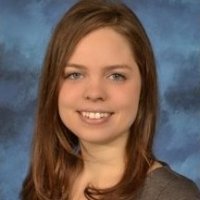 Step into the BloomBoard offices and you'll meet a team with a deep-rooted passion for education. As current and former teachers, principals, and superintendents, we have years of experience working in the classroom. We've channeled our love for education into creating a platform that empowers educators to succeed. At BloomBoard, we approach design and product development in much the same way that a greater teacher approaches the classroom:

Great teachers create an open learning space. The best teachers create an open learning environment so that students can engage in experiential learning, rather than being mere passive listeners. Great teachers recognize that teaching is not a private practice conducted behind closed doors. At BloomBoard, we've adopted a similar approach to design. We have involved educators at every step of the design process to ensure that BloomBoard quells longstanding frustrations with teacher observations, evaluations, and professional development. The BloomList feature is a prime example. After several conversations with educators, we realized that teachers want a place to capture various intentions for professional development (effectively a 'to-do' list). One of our User Experience designers, Aly Bailey, was involved in the design process. Her experiences as a teacher helped her appreciate the merit of a 'to-do' feature; "I thought about all the ways I tried to get better as an educator - I visited colleagues' classrooms, I conducted 'experiments' in my classroom, I went to conferences". After Bailey and the team created initial clickable designs, they showed them to teachers and received valuable feedback. After much iteration, BloomList was born. Now, teachers have a place to capture and monitor professional development initiatives throughout the year.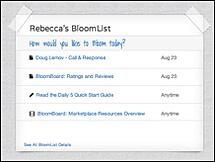 Great teachers are imaginative.
The best teachers know that students learn best when they use imaginative thinking. Teachers are most effective at unleashing students' imaginative inquiry when they adopt imaginative teaching approaches. We've been living and teaching in the dark ages by relying on pen and paper-based teacher observations and evaluations. At BloomBoard, we think the best way to transition to the digital era is to embrace an imaginative approach. Our openness to imagination is at the heart of an exciting new BloomBoard feature, 'Aggregate Ratings and Reviews'. The impetus for this feature was an enlightening conversation with educators at Lucile Erwin Middle School in Thompson, Colorado. Coaches and evaluators emphasized that teacher evaluations are not once per annum events. Teacher ratings are ongoing, and rating reports are living, breathing documents. So, what if evaluators and coaches could track teacher ratings throughout the year? BloomBoard's new 'Aggregate Ratings and Reviews' are organic, living virtual documents that unlock this possibility. This year, teachers will be able to view rating 'snapshots' and monitor progress and growth throughout the year.
Great teachers cater to their environment. Great teachers recognize that no school or classroom is the same. Although great teachers have a toolkit of best practices, they can adapt their teaching style to cater to different learning environments. At BloomBoard, we've developed a platform for educators everywhere. Rather than reacting to each new feature request, we've designed a system that is relevant and rewarding for educators in every state and every district. We recognize that like schools and classrooms, every state and district has a different approach to teacher observation and evaluation practices. We've designed BloomBoard to be extremely adaptive so that resources can be contextualized for educators based on relevant district and state processes. In fact, we've already cross-walked resources in the BloomBoard marketplace to more than 200 different rubrics. BloomBoard meets and surpasses the expectations of our users, regardless of their geographic location.

Great teachers have a willingness to reflect. Great teachers reflect after every school day. When a class scores poorly on a test, teachers don't place blame on their students. Instead, they take time to assess what went wrong and how to improve next time. BloomBoard approaches design and user-experience in much the same way. New feature decisions are informed by, and reflective of, quantitative and qualitative data. If a new feature is not intuitive to users, we critically examine potential areas for improvement and iterate accordingly. The recent update to the BloomBoard professional development 'Resources Page' epitomizes this approach. Quantitative data revealed that many users clicked the Resources tab, yet only a minority searched and filtered for keyword terms. Even fewer selected a resource to preview or watch. We needed to fix this! So, we stepped into our users' shoes by traveling to Colorado to speak with teachers and administrators from five different districts. We realized that users had difficulty locating the search box and filters - they needed more direction. In light of these eye-opening conversations, we've refined the search page to include a list of 'hot-topics', a selection of the most popular professional development resource topics. We also altered the color scheme of the page; the search bar is now orange, instead of a subtle grey, to direct users' eyes to the search bar.

[Before]:




[After]:



Great teachers have a continuing desire to improve. Great teaching is an art. The most effective teachers continually desire to improve. A teacher sees each new day as a learning opportunity and an occasion of growth. At BloomBoard, we see user-experience in a similar light. Like great teachers, we are never satisfied with the status quo. We continually iterate and refine BloomBoard. This new website is a recent example of our continual desire to improve. Thanks to the update, it is now even easier for users to navigate through the site. Stephen Anderson, BloomBoard's Chief of User Experience, compares navigating a web page to a conversation with thousands of 'micro moments'. At BloomBoard, we're obsessed with these 'micro moments'. We strive to ensure that every second of the observation, evaluation, and professional development process is rewarding and engaging for educators.
We are currently in the process of revamping our professional development marketplace to create even more delight for our teachers and to use valuable personalized data to empower every teacher to succeed and prosper. In much the same way that the payoff for great teaching is enormous, the payoff for effective product design is also titanic. We appreciate that teachers are tasked with the incredible feat of shaping our future leaders.