With another school year behind us, educators across the country are revisiting goals they set in the fall as part of the observation cycle for their state or district. Many are setting new goals for the coming year based on this year's data. Observation and Student Learning Objective data are certainly meaningful measures upon which to recognize achievements and set goals for 2015-16. But how many of you set goals for yourselves to lead? Teacher Leadership is one of those hard-to-measure, but increasingly important indicators used to quantify educator effectiveness.
BloomBoard & CCSSO Survey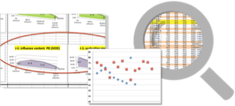 At BloomBoard, we recently conducted research in conjunction with the Council of Chief State School Officers (CCSSO) as part of a larger project to understand commonalities and opportunities for collaboration across state lines in key areas of educator effectiveness.

As part of our research, we surveyed state leaders in educator effectiveness in 29 states and looked at how teachers answered important questions about their own effectiveness in the Teacher Follow-up Survey, part of the Schools and Staffing Survey administered by National Center for Education Statistics (NCES).
What We Learned
We found that while it is common for media reports to focus on where we are as a nation - and to point out shortcomings, poor test scores and struggles in general - there is actually much to be applauded and proud of in this work. There are certainly some encouraging results; there are also clear and exciting opportunities for improvement and growth. Three key findings from our survey, include: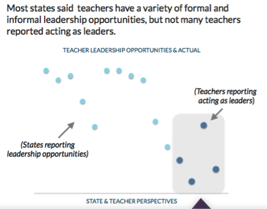 92% of states surveyed reported that teachers have opportunity for leadership as curriculum specialist, but only 9% of teachers report serving in this role.
92% of states surveyed reported that teachers have opportunity for leadership as mentors, but only 18% of teachers report serving in this role.


Most states said teachers have a variety of formal and informal leadership opportunities, but not many teachers reported acting as leaders.
This research unearthed some questions: Do teachers really have opportunity to lead at the school level, district level and state level? Are they taking part in those opportunities?
Diving Deeper
When we asked state leaders what their teams were interested in learning more about, one of the topics we heard again and again was "Teacher Leadership." This buzz word continued to come up when we asked what they were interested in collaborating on and what they were interested in sharing their successes about.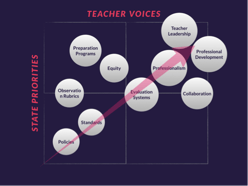 We analyzed our results to determine what the most important issues for SCEE members (state priorities) are and found that: Teacher Leadership, Professional Development, Preparation Programs, Professionalism, and Equity were most important. We then went back into the data mines to find the educator voice and found some overlap: Teacher Leadership Professional Development, Professionalism, Evaluation Systems, and Collaboration were at the top of the list.

So the bigger question is: Since small percentages of teachers are reporting serving as leaders in these formal roles, what are the informal mechanisms and opportunities for leadership? Where do effective teachers truly have influence within schools and on student outcomes?
Opportunities for Teacher Leadership
Capitalizing on and leveraging informal roles is something that educators do constantly. They use emotional intelligence to gauge when a student is having trouble at home; they use social intelligence to help colleagues with tough situations; they use all the tools in their toolkits to get through a day in which at least one thing is guaranteed to NOT go according to plan. Those informal roles, whether recognized and rewarded or not, are ways in which teachers act as leaders every day.
Observing peers and providing feedback

Choosing and sharing resources for a PLC, grade-level, subject-area or school-level goal

Being an active and reflective participant (advocating for yourself) within the observation process; giving self-ratings, providing data, evidence & documents

Sharing the educator voice in social media platforms, blogs and in reviews of professional development content

Seek out resources for your own learning
Teachers are leaders and role models not only when standing in front of a class full of students, but in staff and parent meetings, among peers in learning communities and in challenging situations, and in their broader communities. With so many ways for teachers to be leaders - and access to resources just a click away - we hope that more and more teachers take advantage of both informal and formal leadership opportunities. Here are some great resources for teachers on leadership, both informal and formal: