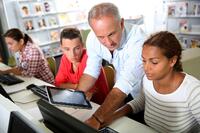 Technology has changed the classroom experience so much over the past several years that an entire field, EdTech, has emerged to study and facilitate this phenomenon.
But the field's focus on the latest software and hardware is in danger of pushing aside personal connection. This is alarming because people in EdTech are losing sight of the most important part of the equation: the student-teacher interaction that facilitates learning.
In this article, Jason Lange explains that EdTech's focus should be on people because technology alone cannot revolutionize education.