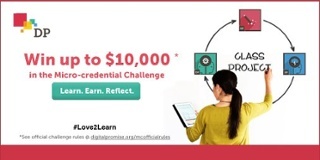 The best reward for personalized learning is seeing its impact on your students and classroom. Digital Promise is providing a powerful added incentive with their Deeper Learning Micro-credential Challenge. Educators can earn up to $10,000* by collaborating with other educators to submit, earn, and reflect on micro-credentials!
How it Works:
1. Identify your team of educators (2 or more).

Teams can be comprised of educators from varying grade levels, subject matters, schools, districts, and states. An educator can only be on one team.
2. Earn Deeper Learning Micro-credentials.

Micro-credentials — a digital form of certification — recognize educators for demonstrating their skills and competencies. One important set of skills, known as Deeper Learning, helps educators design learning experiences that support students as they develop critical skills such as collaboration, effective communication, and critical thinking. Digital Promise has developed 40 Deeper Learning micro-credentials that identify specific approaches for educators. Visit bloomboard.com/digitalpromise to view, apply, and earn micro-credentials.
3. Submit your reflection on this Challenge and Deeper Learning practices.

Create a reflection on this experience (described in the Challenge submission form). All micro-credentials must be submitted for assessment online at www.bloomboard.com/digitalpromise by May 1, 2016. Email your completed submission form, along with required attachments to mcchallenge@digitalpromise.org by May 15, 2016. Submissions will be scored by a panel of Deeper Learning experts based on this rubric.
For more information, visit the Digital Promise website.


*Read official rules here: www.digitalpromise.org/mcofficialrules