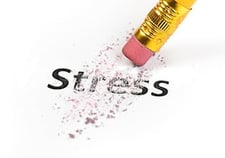 Spring is in full bloom! While this is my favorite season, when I was teaching it was often the most stressful time of year. With the end of the school year right around the corner, both students and teachers can find themselves rushed as they sprint to the finish line.
For this collection
, I've gathered some strategies for managing stress and feeling refreshed. Here's to wishing you a bright and stress-free finish!
Kicking Stress Brings Balance to the Classroom (video)
Take care of your students by taking care of yourself. Watch this vido to find out what it means.

Humor In School Is Serious Business (eBook)
You'll laugh out loud as you read about why humor belongs in every classroom. This is a book for any teacher - even (or especially) those who are not natural-born comedians. Learn the research-based benefits of humor in school and find a huge supply of practical ways to add humor to your teaching strategies and classroom setting. The book includes chapters for administrators and coaches, too!
This course is designed for classroom teachers who juggle time-sensitive tasks and often-exhausting teaching schedules.

Looking for more professional learning resources to help you advance your teaching skills? Browse the BloomBoard Resource Library.