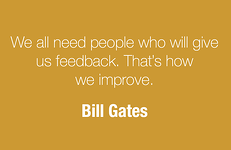 According to research by the Educational Endowment Foundation, improving the quality of feedback given to students has the biggest impact on learning of any classroom intervention. But while meaningful feedback can transform a student's learning, if done wrong, it could also provide negative results.

Engage with these professional learning resources to learn how specific praise can affect student motivation and how to personalize feedback to meet diverse student needs. In no time, you'll be on your way to mastering the feedback process!

Note: To access these resources you must have a BloomBoard account. If your school or district does not use BloomBoard, but you would like access to our Resource Library, please complete this form.

Reality PD | Respond to student understanding [video]
How do you respond when a student misunderstands? In this video, Pre-K teacher Tanya Copeland gives outstanding advice on how to respond when a student doesn't quite grasp a new concept. In her own words, "giving answers does not allow a child to think or take ownership of learning." Your feedback should help students to help themselves. Watch now.

Podcasting To Personalize Feedback

[video]


When it comes to effective feedback, knowing what to say is only part of the process. If you want your students to listen to the feedback, how to deliver your message is also important. This video shows how Ms. Wessling creatively confronts that challenge by providing personalized feedback through short recorded audio clips.

Watch now

.

Giving Feedback: Say No to No [video]
Are your students ever defensive when receiving feedback? In this video, third grade teacher Katie Bannon suggests first validating what the student has said or done before offering suggestions for improvement. That way, students see that you recognize their effort and are more receptive what you have to say. Watch now.