Our teaching resource of the week is an article from the BloomBoard Marketplace that delves into a study finding that teacher collaboration may be the key to successful implementation of Common Core standards.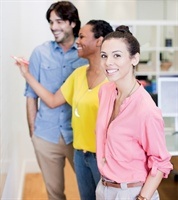 Conducted by the National Center on Literacy Education (NCLE), which solicited feedback from 5,700 K-12 educators, the study concludes that--unsurprisingly--teachers want to feel like they are drivers of the transition to Common Core State Standards (CCSS) alignment, not that the change is being done "to" them. More specifically, there are three types of teacher engagement crucial to CCSS implementation: planning how their school will implement standards, creating their own materials and approaches, and having the time to work with colleagues to co-create lessons and assignments and examine student work as aligned with standards.
Read the full article to learn more about how a teacher-powered approach to CCSS can have the greatest potential for student achievement.
About the Publisher: The Association for Middle Level Education (AMLE) is dedicated to improving the educational experiences of all students ages 10 to 15 by providing vision, knowledge, and resources to educators and leaders.