In this article from the BloomBoard Marketplace, Sally Ryan, a 4th grade teacher at Crow Island School in Winnetka, IL, shares how she crafted a learning opportunity that helped her students open their minds and hearts to see the world and its people in broader terms. Ryan recounts how she brought the struggle of immigration to life for her students through the power of interview, enlisting the help of an Iranian immigrant going through the naturalization process to share his story with the class.
Read the article and leave a review to let other educators in the BloomBoard community know what you think.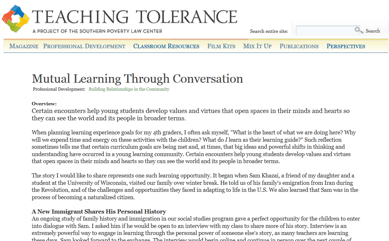 About the Publisher: Founded in 1991 by the Southern Poverty Law Center, Teaching Tolerance is dedicated to reducing prejudice, improving intergroup relations and supporting equitable school experiences for our nation's children. They provide free educational materials to teachers and other school practitioners in the U.S. and Canada.
Check out more resources by Teaching Tolerance.