Our teaching resource of the week from the BloomBoard Marketplace shows how one educator's passion for math can inspire an entire classroom. Watch Ms. Frood apply innovative teaching strategies, such as a "lunchtime cards" game and "fill-in-the-blank" worksheet, to encourage students to work together and build confidence in core multiplication facts before moving on to tackle more complex problem solving.
View the video and leave a review to let other educators in the BloomBoard community know what you think.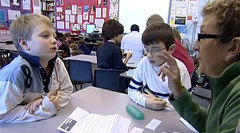 About the Publisher:
Teaching Channel revolutionizes how teachers learn, connect, and inspire each other to improve instruction and student outcomes in America's K–12 classrooms through their diverse catalog of video content and online innovation.
Check out more resources by The Teaching Channel.