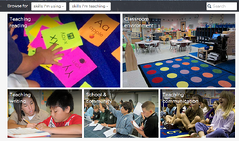 A new year means new opportunities to grow. Over the past month we've added a few additional features to help you stay on top of your 2015 professional goals. Read about them below and visit the Resource Library to see them in action.
See Ratings & Reviews
The best advice comes from like-minded teachers who have been there before. You can now submit ratings and reviews for resources you consumed, and find out which ones were most useful to other BloomBoard educators. Start reviewing.
Save Resources for Later
We know its not always easing finding time to dedicate to your professional development. With the "save for later" feature, you can bookmark resources to review, purchase, or recommend to a colleague at a later time. Find resources to save.
Track Your Progress
To help you focus on achieving your goals, we've added the ability to create posts within your Goals page. Track progress by writing reflections and notes, linking to other useful websites, and attaching resources from the Resource Library. Create a post.
Questions? Visit our Support Center for self-serve help articles and videos, or contact the BloomBoard support team by phone at (888) 418-1595 or via email at support@bloomboard.com.