We're excited to introduce you to Insights Reports, an easier and more powerful way to see observation completion rates and compare ratings.
These new reports provide data-driven insights to help you support educator growth. A subscription comes with two reports: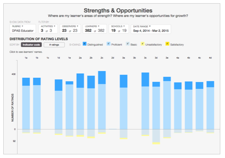 Strengths & Opportunities Report
See where your teachers' strengths and areas for growth are based on aggregated ratings. Use this information to plan school or district- wide PD initiatives, provide teachers with personalized resource recommendations, facilitate peer-to-peer learning, and more.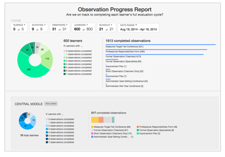 Observations Progress Report

View scheduled and completed activities, observations by school or teacher, and completion rates. Use this data to quickly identify where to offer additional support to those responsible for completing observation and evaluation processes.

Learn how to access Insights Reports
If you are an existing BloomBoard customer with access to Premium Dashboards, you can access your reports by selecting the "Reporting and Insights" link at the top of your Profile page. For more informationa about Insights Reports, visit our support page. Go to my Insights Reports.
If you are an existing BloomBoard customer who does not have Premium Dashboards, and you are interested in learning more, complet this form and a sales consultant will be in touch shortly to show you the power of Insights Reports.