We are all educators. We are all learners. Sometimes we are teaching and we don't even realize it. At other times, we are learning and have yet to fully appreciate how valuable those lessons are.
This weekend, I lost a special educator in my life. Charles Parker taught me so much in my professional career that words can barely do it justice. As I spent the last week making final preparations here at BloomBoard for my vacation to the World Cup in Brasil I got word of his failing health. I couldn't help but draw parallels between the impact he made on my life and the impact we are trying to help our BloomBoard educators make on the lives of students. After a long, successful career in the Federal Bureau of Investigation, Charlie was my direct supervisor in business operations for a previous employer based out of Oakland, California -- just 15 minutes from my desk at BloomBoard. He taught me and others many of the ins and outs of business and the industry. After battling cancer for a year, he was now teaching us how to confront life with grace, surrounded by family and friends at his home.
Last Saturday, at age 71, Charlie taught us his final lesson. What follows is my appreciation of him and to him just hours after his passing that night: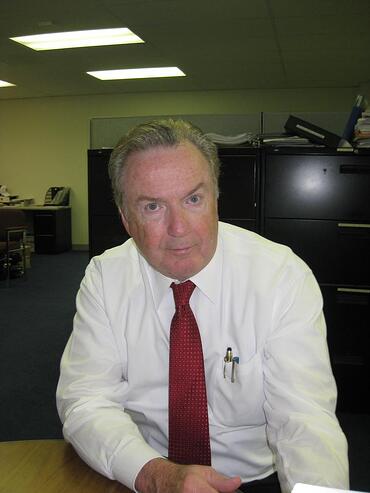 Charlie Parker, two nights ago I drove north on the 880 taking a friend home to Berkeley. As I passed 98th Ave, Hegenberger Rd, the Coliseum, Claremont...the tears just started coming. That was the route I would take through the Caldecott Tunnel on my way home after working in the office with you. The music that was playing in the car, though in Spanish, put into words more than what I could describe: Si he de morir, que me muera de tanto vivir..."If I am to die, may it be from so much living!"

I'm positive you know how much I learned from you professionally, and how appreciative I have always been of your support, especially when I needed it most. For someone so accomplished and wise, it was incredible to learn from your humility and watch you learn from younger generations as well.

But most importantly, you taught me that it was alright to tango dance in the office. That it was alright to celebrate World Cup games in the morning at my desk. That it was alright to eat dessert first. That it was alright to even get pissed off once in a while...as long as it was over something or someone you loved and cared for.

Four years ago I had one of the most thrilling moments of my life when I watched Uruguay defeat Ghana in the 2010 World Cup. I rushed back into work still celebrating in front of you and Coley, our department vice president. I could tell it wasn't your thing as you seemed somewhat confused, but regardless, you were happy for me. Without even realizing it, you became part of one of my most treasured memories that I will never forget. Having no fellow Uruguayans around nor relatives, you and the Oakland staff were the first "family" with which I was able to celebrate. In 5 days I get to live my dream and actually attend the World Cup in Brazil following the United States national team. I wish I could have seen you one last time for you to kiss my American flag for good luck, but I know someone as patriotic as you will still be there with me looking down from above. And hey, since you're already on the other side...maybe you can see what you can do for our boys in the tourney?

No matter what was going on, the most important thing in your life was people. Caring for people. Promoting people. Fighting for people. I'm honored to have had you as my boss, to have called you my friend and mentor. May God grant your friends and family the continued joy you always brought into our lives and may we all be blessed with the same grace with which you approached your own.

I love you, Boss! I love you, Boss! I love you, Boss!