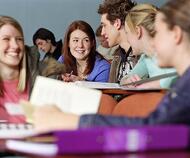 Whether communication is written or spoken, students sometimes lack the knowledge required to participate in critical conversations. In some cases, educators are unsure of their role during these conversations, especially if they are student-lead.
There are a number of strategies you can use to help students express their ideas clearly. Here are three resources from the BloomBoard Resource Library to help you get started.
Note: To access these resources you must have a BloomBoard account. If your school or district does not use BloomBoard, but you would like access to our Resource Library, please complete this form.

1. Academic Discourse and PBL [article]
This article by teacher and author Danielle Lynch gives an outstanding overview of what Academic Discourse is all about. While the article is part of a larger series on Project Based Learning, this particular article is relevant to any lesson that involves critical student discussion. Read now.
What is the educator's role during student discussions? This video models the practice of facilitating student-centered discussion and includes a demonstration of different strategies that invite students to learn by talking and listening to each other. Included with the video is a lesson plan, worksheets, student work, and a teacher reflection. Watch now.
3. Talk Moves in Academic Discussions [video]
In this video, educator Tamica Groves provides students models for responding to classmates during discussion. These strategies not only help students engage in a conversation, but also encourage them to listen in order to build on their peer's contributions. Watch now.


Looking for more professional learning resources to help you advance your skills?
Explore the BloomBoard Resource Library.