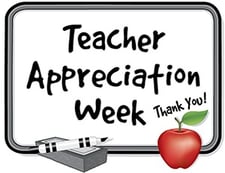 Teacher Appreciation Day has evolved from simple gestures of thanks to, in some cases, weeklong extravaganzas of brunches, fruit, flowers, and performances. Every school is different, but striking the right balance is important and allows you to really show your educators how much they matter.
How can you tell if your current event really makes an impact – or if it is overwhelming your teachers, parents, and students? The easiest way to find out is to ask.
Ask your teachers: The most important part of the week is the original idea — to make your educators feel appreciated. If the festivities planned are cutting into time needed for other things or actually create more work for your educators, it may be time to reexamine your approach.
In many districts and schools, the actual planning falls to a small, dedicated group of parent volunteers; these well-meaning folks are not teachers and may not realize that the plans they make with the best of intentions are overwhelming or problematic.
Find out what your teachers think about your current way of celebrating, and what they would enjoy receiving or doing on this week to fine tune your approach. You may find that there is room for improvement; in this case there are a variety of festivities you can choose from to make sure your teachers feel the love.
Ask your parents and families: The fastest and easiest way to get a good idea of how your students and families feel about an involved and sometimes costly week of celebration is to ask.
Conduct an online poll where people can respond anonymously and honestly or send home a questionnaire. You can set up a quick survey to determine what your students and their families really think. You may find the parents want to express thanks in different ways throughout the year, or they may love your current system; asking lets you know for sure.
An anonymous survey will net one of several results.
Both faculty and parents love the current system: You will get affirmation that the current way you run your Teacher Appreciation Week is enjoyed by your faculty and works for your families. In this case, pat yourself on the back and continue leading and supporting it!
Your intentions are appreciated, but the delivery needs some modifications: Comments or responses indicate that the idea is good, but the implementation leaves something to be desired. If you receive mixed responses, or responses that indicate that changes should be made to your preparations, make some changes that let you keep the spirit of the event without overwhelming your students.
Time for a change: Are your plans to elaborate, too expensive or too time consuming for your student body -- or not involved enough for your teachers to truly feel appreciated? Make the switch to an alternative way of showing your appreciation. Gifts, thanks and other gestures scheduled over a week may sound good, but if your parents have a difficult time with the cost or time involved, the actual point is lost. Check out a few of the common elements we think make for a Teacher Appreciation Week the majority of your teachers and families can embrace and enjoy.
Listening to your educators and your families allows you to choose meaningful and relevant ways to celebrate your teaching and support staff. If you do decide to take an alternative route in response to teacher and parent surveys, spell out your plans early in the year and make sure your key planners and team members are on board and that your teachers know what to expect.
No matter what you find out or what changes you decide to make, you should be doing something for the teachers who work for you as well. A personal note from the principal in each teacher's box could be enough to brighten someone's day. Or go a little further by scheduling a staff meeting, but surprise the teachers when they arrive with a celebration so you'll have time to personally tell them how much you appreciate their work.
Appreciating, listening to and responding to your educators is the easiest way to meet the original goal of this event -- letting your teachers know how much they matter to your school.
How do you plan to celebrate your teaching and support staff this year? Share your ideas on Twitter with the hashtag #TAWidea