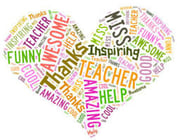 It all started in 1953 when Eleanor Roosevelt nudged Congress to create a special day to thank teachers. Since then, Teacher Appreciation Day has expanded into a full week of expressing gratitude for our nation's 3.7 million teachers.
So how do you adequately express thanks to the men and women who passionately educate children all year? Here are some ideas to jump-start your planning:
Create a schedule

: Ask families to sign up to volunteer in the classroom throughout the school year, especially in the period leading up to Teacher Appreciation Week. Room parents (who likely are already coordinating Teacher Appreciation Week) can create a schedule to allow families to choose when to express thanks. This avoids the situation where teachers get 30 gifts on one day and nothing the rest of the year. Teachers will enjoy small tokens of gratitude throughout the year.



Highlight a grade or team each day of the week

: Recognizing a different grade or two each day is especially productive in large schools with many faculty members. And this more focused approach allows your educators to plan as usual and not have to take time to attend multiple gatherings or assemblies. Remember to include all on-site teachers, including positions such as literacy specialist, which operate outside of the classroom but are integral to student success.



Offer professional development or enrichment opportunities

: Many busy educators find it difficult to focus on their own learning and development during the school year. Offering to sponsor a professional development or enrichment opportunity will show appreciation and provide long-term benefits. Not sure what to offer? Visit the BloomBoard Marketplace and see how easy it is to curate a list of professional development resources for your educators.



Take a collection

: Given the option, some parents might like to make a small financial gift. If room parents set up a collection, they can use the money to buy a gift card that can be presented by the entire classroom community. Most teachers have trouble displaying 25 plants or using 25 bath products — but no one has trouble figuring out how to use a gift card.



Institute a "no gifts" policy

: Asking for student-made cards or letters can reduce pressure on families and allow students to express themselves. You could put out a craft table at recess, before school, or during after-school programs to give kids the opportunity to make something for their teachers. This gives students the chance to use their own voices to express thanks.
By planning ahead and knowing your options before Teacher Appreciation Week arrives, you'll be able to show your amazing educators how much you value them. Thank you for supporting our educators!
What fun ideas or activities do you have planned for this year's Teacher Appreciation Week? Share your ideas on Twitter with the hashtag #TAWidea