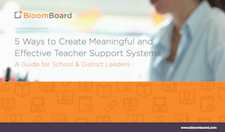 Teachers are expected to not only educate and help their students grow, but also guide their development every step of the way.
Teachers who receive high-quality professional development witness their students' achievement results improve by an average of 21 percentile points. Administrators owe it to their students and teachers to construct a meaningful support system that strengthens teachers' classroom practices and takes advantage of recent advances in technology to aid in classroom management and student success.
In this eBook, we discuss how to create and structure a meaningful and effective support system for teachers.