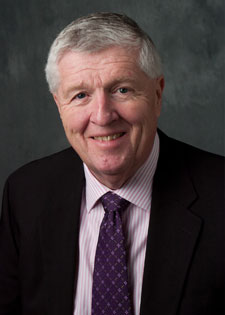 Dr. John Hill is the Executive Director of the National Rural Education Association. He has served as a middle school mathematics teacher, middle and high school principal, assistant superintendent, and superintendent. His primary interests are those issues which impact rural schools and the role of instructional leaders at the district and building levels. He is also involved In the Purdue Educational Leadership Initiative for Small and Rural Schools and the Woodrow Wilson Fellowship program. John has a B.S. from Manchester University, an M.S., Ed.S., and Ed.D. from Indiana University.

The following interview with Dr. Hill provides us a glimpse into his important work with the NREA (and mentions the teacher that he remembered most):

What is the National Rural Education Association (NREA)?

The National Rural Education Association (NREA) was originally founded as the Department of Rural Education in 1907. It is the oldest established national organization of its kind in the United States. Through the years, it has evolved as a strong and respected organization of rural school administrators, teachers, board members, regional service agency personnel, researchers, business and industry representatives, and others interested in maintaining the vitality of rural school systems across the country.

What is your role with the NREA and how did you come across this opportunity? What else do you do outside of NREA?

I was contacted by a representative of Purdue university to apply for the position of executive director. I also serve as a program manager for the Stem Goes Rural project at Purdue initiated by the Woodrow Wilson Foundation. We recruit those from the STEM fields to come back to school and train to be a secondary STEM teacher. We provide financial support during their eighteen month preparation and coaching support during their first three years on the job. In return, the fellows agree to teach in an Indiana rural school for three years.

What is your definition of a rural school? What is unique to them from other schools?

The organization uses the following guideline: If you think you are rural , you are rural. Rural is seen as a state of mind. Those in a rural state of mind tend to display independence, they pull together when in crisis (individual or group), they are spiritual, they have an appreciation of the land; and they tend to be pragmatic.

How can the wider education community support rural schools to make a collective impact on our schools, educators, and students?

Realize the added value that rural communities provide our society as a whole. As a result, be willing to provide the financial support to keep rural schools, especially in remote areas where viable. Understand that technology cannot replace an excellent teacher, but technology in the hands of an excellent teacher can improve student engagement and achievement.

What are some of the most pressing issues that are facing your members today?

The most pressing issue is the survival of rural communities. Agriculture is mechanized and the number of individuals needed has decreased, and manufacturing is leaving small towns.

Think of a teacher that you had growing up that you remember most. How did they have an impact on you? What was it that the teacher did that was special?

I went to a small rural elementary school with multiple classes in each room. I had a fifth grade teacher who was a master at relating subject matters to the world around us.

Who would join your association and how do they benefit from their membership with NREA? What's the best way to join?

Anyone with an interest in rural education and communities. Visit us and sign up.