Want to brush up on a new strategy this summer that can make your teaching more creative, engaging, and fun? Take a closer look at Project-Based Learning (PBL). PBL is an approach to learning in which students develop solutions to real-world problems and challenges. For everything you'd want to know about adopting PBL in your classroom, you need look no further than the expertise of Buck Institute for Education (BIE).
BIE is a nonprofit that creates, gathers, and shares high-quality PBL instructional practices for all grade levels and subject areas. We chatted with BIE's Editor in Chief, John Larmer, who is the writer and editor of BIE's PBL Toolkit Series and co-author of the Project Based Learning Handbook. Read on to hear what he has to say about the PBL resource collections BIE has developed for BloomBoard, the innovative work districts like Metro Nashville Public Schools are doing around PBL, and how PBL can restore "the joy of teaching."
1. Tell us a little bit about Project-Based Learning. Why do you think this is such an important strategy for teachers?
At BIE, we think PBL is the "total package." First and foremost, a good project engages students and makes school more exciting and meaningful – which it's not, for most kids. PBL can even transform students' lives, by giving them the chance to work on real-world problems and create high-quality products they're proud of. There's also an equity argument for PBL; by providing students who are furthest from opportunity with these transformative experiences, they're empowered to see themselves differently.
Secondly, students taught with PBL learn more—and learn more deeply—compared to traditional instruction. They learn standards-based knowledge and skills in a way that stays with them longer. Students also build success skills such as critical thinking/problem-solving, collaboration, communication, creativity/innovation, and self-management, which will help them do better on the job in our modern, knowledge-based economy.
A third reason we like PBL is that it's rewarding for teachers—we even say it can restore the "joy of teaching." It requires more work at first when a teacher is learning how to implement PBL, but once you're hooked, there's no going back. It's great to see your students fired up and eager to learn.
2. What's one of the more exciting or innovative PBL initiatives you've seen in your work with schools or individual teachers?
We partner with school districts for multi-year PBL implementation efforts, and one of our longest relationships has been with Metro Nashville Public Schools in Tennessee, which has been getting great results in terms of student achievement and engagement.
They've formed partnerships with business and community organizations, which helps their PBL efforts in several ways. First and foremost, they have created an "externship" program. Teachers spend a few days in the summer job-shadowing someone who uses the teacher's subject area in his or her work.
When teachers see professionals tackle projects and solve problems, it gives them real-world ideas for projects. For example, a math teacher might see what an engineer or architect does and translate that into a student-friendly STEM project. Biology or chemistry teachers could job-shadow a scientist working in a local industry or research institution. A history teacher could spend time at a museum. I like how the requests for externships come from the teachers, based on their interests.
Another benefit of having strong business and community partnerships is that students are given opportunities to work with experts and professionals, getting exposed to different workplaces, careers, and real-world challenges. Working with these adults outside of the school environment adds to the authenticity of the project and increases students' motivation to do well. The adults can act as mentors, teach some of the content, and show students how to gain and apply skills. They can also give students feedback, critiquing their work using standards and criteria they themselves would use, and act as a great audience when students are ready to make their work public in a project.
3. Buck Institute for Education has created eighteen collections for BloomBoard. For one of these collections, can you share what motivated you to recognize the need for a set of resources that teachers can explore and discuss?
One of the collections has information and resources for our new model of "Gold Standard PBL." A few years ago we became concerned that, with PBL's growing popularity, people might be jumping on the bandwagon with projects that are not well-designed, well-managed, and/or don't go into much depth. We were worried that commercial publishers would sell (and they are) curriculum materials labeled "project-based" that aren't rigorous or are simply add-ons to the classroom, as opposed to the core instructional approach that defines PBL. As a result, PBL could get a bad name and become one of yesterday's education fads. I talked about this in a blog post and at my ASCD conference session presentation last March. Our Gold Standard model is an attempt to support teachers and schools in executing PBL well, so it becomes institutionalized.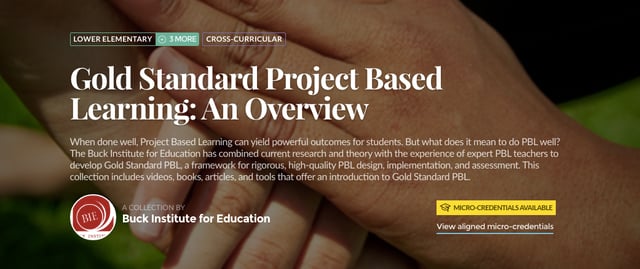 4. Can you talk about some of the ways BIE supports teachers in implementing PBL in the classroom? What does that support look like and how do you see teachers pursuing professional learning over the summer when most teachers are out of the classroom?
The Buck Institute supports K-12 teachers—and occasionally teachers from post-secondary or informal education programs—in designing, assessing, and managing Gold Standard PBL. We also support school and district leaders, in addition to instructional coaches, seeking to implement PBL.
We publish practical how-to books, including one that was published in 2015 in partnership with ASCD, Setting the Standard for Project Based Learning (Ed note: find it in the collection). This one might make good choices for summer reading groups for teachers and leaders.
We're also active on social media, host Google+ hangouts regularly, and publish a new post every day on our blog, which teachers have more time to read during the summer. Teachers can also begin gathering ideas and planning projects for the fall via our website, bie.org, which has a ton of resources like project planning forms, videos, sample projects, links to online PBL communities, and research. Our site's project search tool contains over 500 vetted projects, sorted by subject and grade level, to give teachers ideas and jump-start projects.
Finally, our National Faculty conducts hundreds of our PBL 101 workshops in the summer all over the U.S., and sometimes in other countries. And we host events such as the PBL World conference each June, summer institutes at various regional centers, and PBL Academies during the school year. We also provide professional development and organizational support by forming multi-year partnerships with schools and districts. We're busy these days, but it's a good busy!
The Buck Institute for Education has eighteen collections on BloomBoard related to integrating technology to power teaching practice. View them all or jump to one of our favorites:
Have you signed up for a BloomBoard account yet? Don't miss out on the chance to connect and share ideas with a community of talented and passionate educators and thought leaders like Buck Institute for Education.