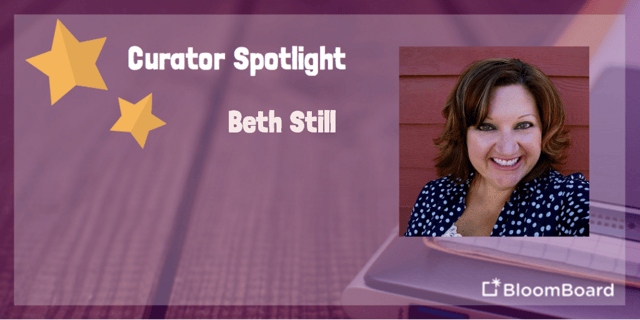 Beth Still is an Innovative Teaching and Learning Specialist in western Nebraska who spends her days supporting teachers as they learn the ins and outs of teaching in a 1:1 environment with Chromebooks. She has also cultivated a large following on Twitter, where she's known for her passion to empower, inspire, and build a digital network of connected educators. Finally, she's a prolific collection curator and has created over twenty collections for BloomBoard, focusing on the power of digital technology to help educators both teach AND learn. We chatted with Beth about what inspired her to push the envelope as an educator, how teachers can get organized using new technology, and her plans for learning over the summer.
1. Tell us a little bit about your journey as an educator. What made you want to become a teaching and learning specialist?
I taught social studies at an alternative high school for ten years. I was fortunate to teach in a school where my principal always encouraged me to push the envelope. My students had access to technology and we adopted Google Apps for Education when it first became available. My students would always joke about how I needed to teach other teachers all of the things I knew how to do, so two years ago I took their advice.

2. What has been one of your favorite moments as an educator?
One of my favorite moments as an educator happened just a few months ago. During my first year of teaching, my husband unofficially mentored one of my students. Over the years we kept in touch and I've watched him achieve a number of milestones. Recently he contacted me to ask my advice about a career switch. He wants to be a teacher and he told me I was his inspiration.
3. You've created twenty collections of teaching resources on BloomBoard! For one of these collections, can you share an anecdote or a real challenge from your experience that motivated you to recognize the need for a set of resources that other teachers can explore and discuss?
One of the collections I put together provides tips and strategies to help teachers get organized digitally. Moving from a traditional environment to a digital one requires us to have a plan for accessing, sharing, and curating information. Figuring out where to start can be challenging. My desire to help teachers embrace technology is the motivating force behind my How to Get...and Stay Organized collection.


4. Can you recommend another collection on BloomBoard that has made an impact on your practice?
I recently found out that I will be teaching two social studies classes next year. The first place I began looking for resources was on BloomBoard! I found a collection called Social Studies in Action that has fantastic ideas for service projects. Social studies is a subject that students LOVE when they realize their actions can have an impact on others.



5. What does professional learning look like for the educators you support over the summer? And how do you seek out growth and learning opportunities for yourself?
There are numerous opportunities for teachers from my district to learn over the summer. My district hosts a technology summit in July and we bring in presenters from around the country to share their expertise. This summit is open to educators from outside of my district as well. I have also created several Google+ communities to help connect the teachers in my district. I hope they use those communities as a place to stay connected and share ideas throughout the summer months. As for my professional learning, I will attend ISTE and complete some online classes. As always, I will stay active on Twitter!
Beth has twenty collections on BloomBoard related to integrating technology to power teaching practice. View them all or jump to one of our favorites:
Have you signed up for a BloomBoard account yet? Don't miss out on the chance to connect and share ideas with a community of talented and passionate educators like Beth.