This is a guest post from BloomBoard partner, Buck Institute for Education.
In the past few years, project based learning (PBL) has become trendy. You can attend sessions about it or its cousin, problem based learning, at most conferences these days, find thousands of online resources, and read dozens of blogs by PBL teachers. Transformative school model networks and charter schools with a PBL focus are popping up all over, and PBL professional development services are in high demand.
But there's a danger in sudden popularity: wide variation in quality.
If everyone's jumping on the PBL bandwagon, downloading or purchasing materials called "projects," following whatever guidance they find on the web, or sitting through some hasty and superficial workshop −we're going to see lots of low-quality teaching and learning. I've always been careful to say, "When done well, PBL yields great results." If PBL is not done well, I could foresee:

Danger #1: Teachers, schools and districts will say they use PBL, but don't really, or not enough. Projects may happen just once a year, like after testing. Perhaps only certain students, teachers, or programs do projects. Or some schools and teachers might just be "doing projects" which are merely a hands-on activity or a lengthy assignment, not PBL.
If this scenario unfolds, the promised benefits of PBL will not be realized. Most students will not gain the deeper understanding and greater retention of content knowledge that comes with PBL. Most will not experience enough projects to build strong 21st century skills. Most will remain unengaged and unmotivated in their regular, traditionally-taught classrooms.

Danger #2: Teachers will try to use PBL and not be successful. Some teachers may try doing a project, only to find it turns out to be messy, drawn-out, and disappointing. Instead of being energized and engaged, students are frustrated, unsure of themselves, and maybe even bored. They – or their parents – might be concerned about wasted time, unfair grading, imbalanced workloads on student teams, and being unprepared for high-stakes tests.
In this scenario, in addition to benefits not being realized, PBL's reputation will be damaged. It could go the way of outcome-based learning, open classrooms, or whatever other educational fad you might remember. PBL could go back to what it was in the first decade of the 21st century: an under-the-radar practice used only by a few brave, skillful teachers on a staff, or only by a few special schools.
---
A New Gold Standard for PBL
To help prevent the above scenarios from happening, BIE is collaborating with other like-minded organizations and PBL experts to create and disseminate Gold Standard Project Based Learning, a new model for the rigorous practice of PBL.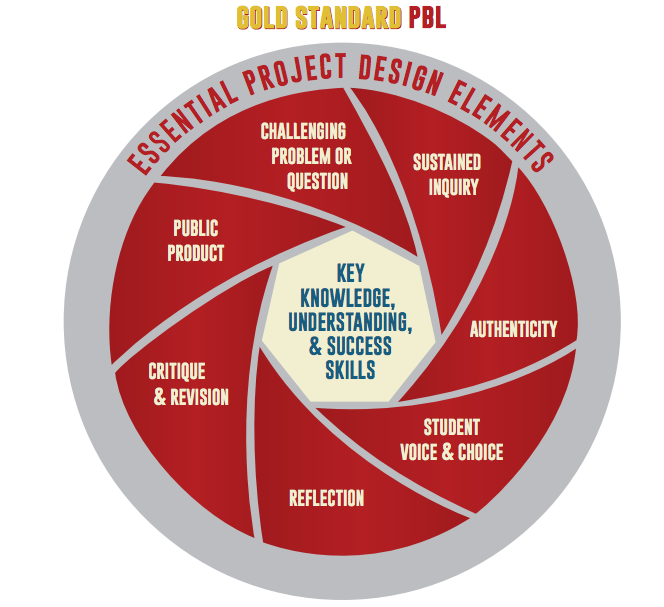 The most recent draft of our model shows student learning goals in the center and Essential Project Design Elements around the hexagon. We intend to add Project Based Teaching practices to this model, and eventually the characteristics of "gold standard" PBL Schools and PBL Districts. We believe that if teachers design and conduct projects that reflect these elements – even if to varying degrees – then PBL will fulfill its promise as one of the go-to teaching methods for the 21st century.
---
Learn More and Share Your Thoughts
To find out more about BIE's model of Gold Standard PBL, view our blog posts and recorded Google Hangouts on the topic. We'll be hosting more Hangouts about the Gold Standard this winter and spring, and our final iteration will be unveiled this summer. We'd love to hear your thoughts about our model, which you can leave in the comments section of our blog post "Gold Standard PBL: A Progress Report & Request for Critique."
To learn more about project based learning, browse our resources in the BloomBoard Resource Library.
Note: To access these resources you must have a BloomBoard account. If your school or district does not use BloomBoard, but you would like access to our Resource Library, please complete this form.
---
About BIE

The Buck Institute for Education's (BIE) highest priority is to help teachers prepare students for successful lives. We do this by showing teachers how to use Project Based Learning in all grade levels and subject areas. As a mission-driven nonprofit organization, BIE creates, gathers, and shares high-quality PBL instructional practices and products and provides highly effective services to teachers, schools, and districts.
If you enjoyed this post, you can read more great content
from additional BloomBoard partners!