The following is a guest post by Tanya Baker, Director of National Programs at the National Writing Project.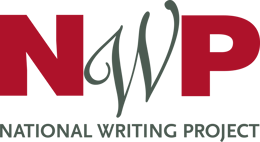 The National Writing Project (NWP) is pleased for the opportunity to host a curated collection of resources called "
Creating a Culture of Argument"
at Bloomboard, where teachers can learn, share and discuss promising teaching practices. The resources in our collection, many of which are created by middle and high school teachers, have also been field tested by teachers as part of NWP's College Ready Writers Programs (CRWP).
We believe that writing (in this case argument writing) is a complex act, and that to improve one's skills, one must have many opportunities to try and try again. Therefore,
our resource collection
is meant to help teachers think about creating a classroom in which students receive multiple, low-stakes opportunities to practice creating and crafting arguments. We think our collection is a great set of resources for any single teacher interested in this topic, and even better when shared with a teaching partner, professional learning community, or study group.
About The National Writing Project
Funded by a U.S. Department of Education Investing in Innovation (i3) grant, the NWP College-Ready Writers Program (CRWP) supports 25,000 students from 44 rural school districts in 10 states: Alabama, Arkansas, Arizona, Louisiana, Missouri, Mississippi, New York, Oklahoma, South Carolina, and Tennessee.
In partnership with these rural school districts, NWP's CRWP offers intensive professional learning opportunities to middle and high school teachers so they can support their students in becoming writers in today's rapidly changing world.
The National Writing Project is honored to have been invited to participate in this February Blog-a-thon with other Bloomboard collection contributors, and we are excited to pass the blogging torch to Scott McLeod. McLeod, widely recognized as a leading expert on K-12 school technology leadership issues, blogs regularly on this topic at Dangerously Irrelevant. If you don't know Scott's work, definitely check out his blog and resource collection on Rethinking Acceptable Use Policies (AUPs). It's sure to be a treat.