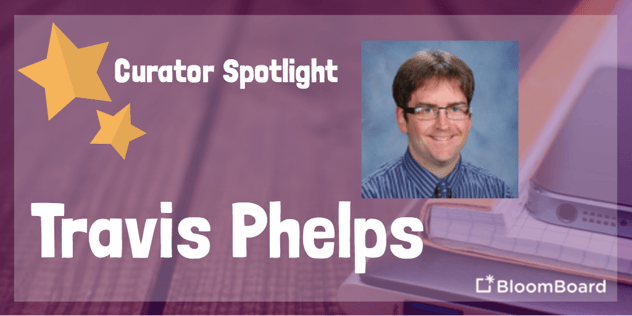 Since launching the new BloomBoard, educators from all over the country have signed up to learn, share, and discuss the best teaching ideas with each other. We've learned that while teachers love exploring resource collections to power their professional growth, they also want to learn more about the educators creating these dynamic collections.
And they're completely right—these superstar educators deserve recognition! Which is why we're introducing a new blog series that showcases the experts who make BloomBoard the destination for more connected, more meaningful, and just-in-time professional learning.
Today, we're featuring Travis Phelps, assistant principal, 8th grade teacher, and adjunct at SCU's Academy of Blended Learning. He has been an EdCamp Lead Organizer, Google in Education Certified Trainer, CUE Rockstar Faculty, and Edmodo Spotlight Fellow. When he is not submerged in the world of EdTech, he enjoys spending time with his beautiful wife and two very charismatic children.
1. Tell us about your journey as an educator. What made you want to be a teacher and what makes you want to stay a teacher?
I remember sitting in a cafe on Wickenden Street in Providence, RI when I suddenly realized that I wanted to be a teacher. I wanted to ignite a fire of curiosity and excitement for learning; to help students see the "big picture" of why things are the way they are and to see that life is constantly in a state of motion. This empowers and enables our students to make a difference in our world.
As the years have gone on, I have realized that technology is a powerful tool in making this happen. It allows students to pursue their interests and to research topics. It also gives students the opportunity to create real-world projects and to present them before a national and a global audience.
2. What has been one of your favorite moments as a teacher?
One of my favorite moments as a teacher came from the first time I did Genius Hour with my students. I was blown away by the wide array of projects, ranging from an epilogue to Harry Potter to a sword to authentic movie makeup. I realized that handing the learning over to students can have powerful implications.
3. You've created several collections on BloomBoard. Can you share an anecdote or a classroom challenge that motivated you to recognize the need for one of these collections?
Perhaps my favorite collection that I have created is my Classcraft collection—Make Classroom Management a Game with Classcraft. I originally struggled with Classcraft and how to make gamification a part of my classroom. After a year of trial and error, I was able to find a system that has worked very successfully for me. (I have detailed my success in this post.) By introducing Classcraft carefully and purposefully in the first few days of school and getting student buy-in, the game has had a major impact on my classroom and student learning.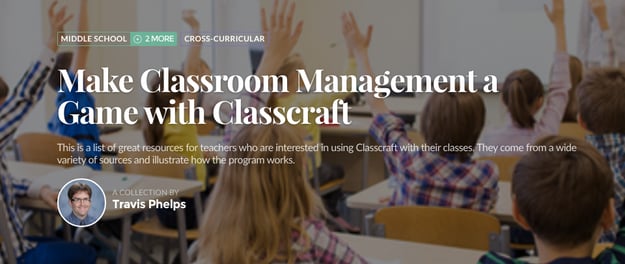 4. Can you recommend another collection on BloomBoard that has made an impact on your teaching practice?
I highly recommend this BloomBoard collection—Dig into Math with Minecraft. Minecraft has proven to be a powerful learning tool, especially in the area of mathematics, and I believe that teachers across the nation and globe will find much higher levels of student engagement by making the most of what is available in Minecraft. Jennifer Bond's collection gives educators a list of great resources and helps them take the initial foray into this platform.
5. Do you engage in any professional learning over the summer? What's your game plan for preparing for the next school year?
Over the next few months, I plan to attend EdCamp San Jose and to teach sessions at Santa Clara University's Academy of Blended Learning. I always cherish the opportunity to show others what is possible with educational technology, and I am excited about giving professional development this summer!
Check out all of Travis's collections:
Have you signed up for a BloomBoard account yet? Don't miss out on the chance to connect and share ideas with a community of talented and passionate educators like Travis!