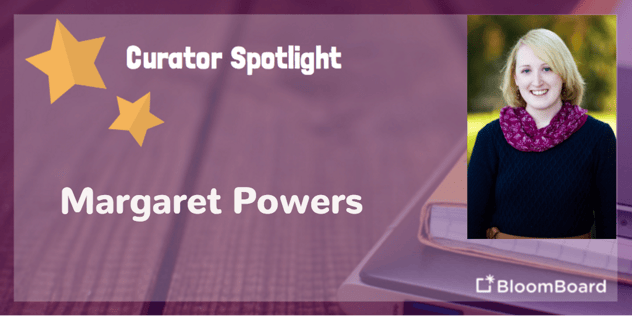 Margaret Powers is a passionate educator and tech entrepreneur working as a Tech Coach and Innovation Consultant in Philadelphia. Among her many interests, Margaret focuses on global education, social media, early childhood, mindfulness, design thinking, and the Maker movement. Just a short scan of her blog reveals how much she has accomplished in her first few years as an educator. In addition to her day job, she works as a Coach for the Teachers Guild, facilitates PD with the Global Online Academy, and is a Google Certified Innovator and PBS Digital Innovator. Her continual thirst for learning and desire to share what she learns with other educators is truly aligned with the spirit of BloomBoard, where our mission is to empower educator growth.
Learn more about Margaret's journey as an educator, how she seeks out collaboration and innovation in her professional learning, and her collections on BloomBoard.
1. Tell us about your journey as an educator. What made you want to become an educator, and specifically, focus on technology integration and STEAM innovation?
Education is truly a passion of mine. I love working with students and teachers and enjoy being a lifelong learner myself. I knew I wanted to go into education before I finished my K-12 schooling and I spent much of my time as an undergrad in a variety of school field placements, learning as much as I could about teaching and learning. I have always been intrigued by technology and after living overseas, I also realized how powerful it could be as a tool for global collaboration and communication, between both educators and students.
Together, my passion for education and my interest in EdTech has led me to work as a Technology Coach, supporting teachers and students in infusing tech into the classroom as a tool to help students create, collaborate, and communicate. Managing our IDEA Studio at my school, I have a chance to really focus on bringing the STEAM disciplines together, inspiring students to use their imaginations as inventors and makers who can use things like engineering and design thinking to change the world.
2. What are you focusing on this week/month with your students and educators? Are there any innovations or projects you're particularly excited about?
We are just wrapping up a project in some of our kindergarten classes focused on inventors. We used the design thinking process as a tool to help scaffold students' explorations of other community member's needs and then design and prototype new inventions to help them. It has been exciting to see the students dive deeper into empathy in order to create relevant designs and then test and improve their prototypes with peer feedback! Our first graders are also starting a neat new project. They will create their own digital Zoom books using objects they photograph on our school campus after learning about maps and different perspectives.
3. You've created three collections of teaching resources on BloomBoard, Using Mindfulness During Morning Meetings, Telling Stories Through Code, and Create Coders in Your Classroom—Teaching Sequence. For one of these collections, can you share an anecdote or a real challenge from your experience that motivated you to recognize the need for a set of resources that teachers can explore and discuss?
Coding has become a hot topic in education over the past few years. Unfortunately, I think for many educators and students, the focus on coding translates to learning specific steps or operations on a computer without always looking at the creative side of programming. We use Kodable with our youngest students as a way to introduce them to the basic concepts of code in a visual and sequential way, but I realized that it was important for students to have some more open-ended experiences with coding right from the beginning. This goal is one of the things that led me to design the lesson on storytelling with robots in the Telling Stories Through Code collection and also change our scope and sequence to start transitioning students into creative apps like ScratchJr, and then Hopscotch in first and second grade. I think it's important for students to see that by learning code, they can also express their creativity and imaginations by creating stories with codes, presented through robots or other visual mediums on a digital device.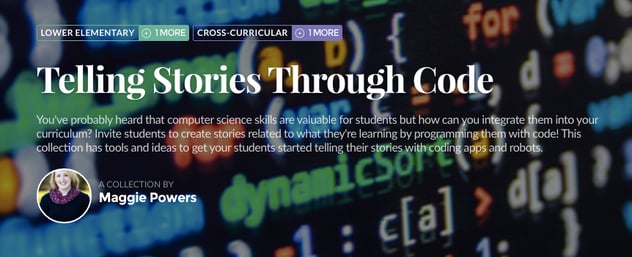 4. Can you recommend another collection on BloomBoard that has made an impact on your practice?
I would like to recommend Improvisation and the Art and Science of Making It Up As You Go by Dan Ryder of Wicked Decent Learning, because it offers so many great resources for educators! Improv can be such a powerful practice, both for teachers in the classroom and educators working as coaches and facilitators with other educators. The improv encyclopedia is a great tool because you can find activities based on a specific goal (e.g., create trust, build up energy). I think the videos Dan includes help provide readers with a deeper understanding of improv and its value. I have also used the pillars: accept, communicate, trust (ACT) in my work with students and teachers to lay the groundwork for deeper learning and design.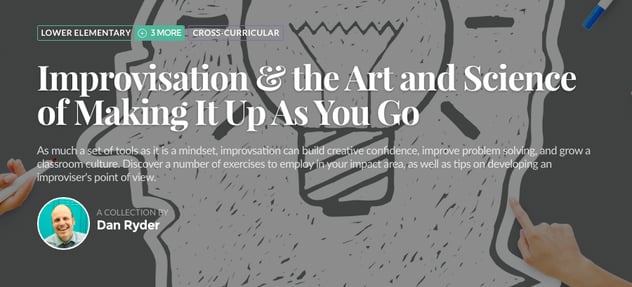 5. What has been your all-time favorite project or moment as an educator?
That's a tough question! It's so hard to pick just one but a favorite project of mine from this year is one that our second grade classes completed this fall. They were challenged with teaching other students in the school about different types of Native American housing, depending on what region they were studying. Using the resources in our IDEA Studio and the engineering design process, students were able to choose any materials or tools they wanted and create something that they thought would help others learn. This resulted in students learning Tinkercad so they could 3D-print small models, exploring green screen recording, using their knowledge of apps to make an eBook, and getting messy creating large models with recycled materials and art supplies. This is a unit that has been done many times before, and I loved how using the design process and opening it up to student-directed creations led to such a diverse range of creative solutions. I was proud of how hard the students worked, and they developed so many new skills around collaboration, prototyping, iterating, using tech tools, and sharing their work through this project.
6. As we learn from the amazing infographic on your site, you are always looking for new ways to learn and grow. How do you seek out growth, collaboration, and learning opportunities for yourself? And what does professional learning look like for the educators you support over the summer?
Yes! I am always on the lookout for new opportunities to learn with and from others and deepen my understanding of educational theory and practice. Twitter is a huge source of inspiration and growth for me because I have developed a global PLN that offers me a variety of diverse perspectives on educating students. Using social media tools, I find countless resources and articles that encourage me to learn new things each day. I also subscribe to a variety of new sites, blogs, YouTube channels, and other resources that help me continue to grow. I attend or present at different conferences throughout the year to push my own thinking and make sure I am stepping into the role of a student as I continue growing as an educator. In the summer, I also help facilitate a four-day workshop for the teachers at my school, and it's also open to educators across the country. This year we'll have two amazing presenters, Lisa Abel-Palmieri and Ellen Deutscher, to help participants engage with our theme of Leading with Empathy and Creative Confidence (learn more here!).
Check out all of Margaret's collections:
Have you signed up for a BloomBoard account yet? Don't miss out on the chance to connect and share ideas with a community of talented and passionate educators like Margaret.