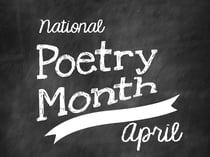 Looking for ideas to help your students discover their inner poet? Wondering about ways to engage students in poetic texts? In celebration of National Poetry Month, this collection features resources that bring a fresh approach to a timeless art form.
Note: To access these professional learning resources you must have a BloomBoard account. If your school or district does not use BloomBoard, but you would like access to our Resource Library, please complete this form.
Students analyze words of a poem before seeing the big picture. How do the "spotting patterns" and "jumbled lines" tasks engage students in deep analysis? See how isolating key words prior to reading the poem help students explore themes and make predictions.
Experience Poetry in the 21st Century (webinar)
There is no such thing as "getting" or "not getting" poetry. There is simply experiencing poetry—and so many new ways to do so in the 21st century. In this video, National Student Poet Louis Lafair, along with Elisa New (Professor of Poetry at Harvard University), Jeremy Dean (Chief of Education at Genius.com), and Sarah Kay (Founder of Project VOICE), discuss the new face of poetry.
Dramatic Interpretations of Poetry (video)
Students use tableaus to express poetry and emotions. Note the structures Mr. Wasse has in place for peer and self-assessment. Why is tableau an effective art form to use in this lesson?

Looking for more professional learning resources to help you advance your teaching skills? Explore the BloomBoard Resource Library.