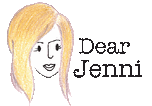 Our customers often tell us that Jenni Haight, our lead customer support agent at BloomBoard, is wonderful (and we think she is too!) Given her customer support prowess and "wonderfulness," we are excited to introduce Dear Jenni, our new customer support column. Think "Dear Abbey" Q&A style, but with helpful tips and tricks that apply to educators using BloomBoard. Jenni will lead the editorial column based on trending questions from our support site and feature resources to make sure that everyone understands the answer. Dear Jenni will be regularly featured on our blog, Educator Excellence. Have a question for Jenni or want to share your comments? Please email our dear Jenni at dearjenni@bloomboard.com.

And now, for today's column:
Dear Jenni,

As a teacher, I want to be sure my principal has evidence of the progress I've made. We're both busy, though, and it's easy to miss things. How can I help my principal in recognizing my growth throughout the year?

Sincerely,
BloomBoard Educator

Dear educator,

There are a couple ways you can use BloomBoard to showcase your professional growth. One way to highlight steps that you have taken to grow professionally is by adding resources to your BloomList and then completing those resources. Your principal is also able to see the list of resources you have completed. View an overview of the BloomList and start adding resources today.

Another way you can highlight your growth is to tag evidence from your observations. You can tag your principal's notes as well as artifacts you have uploaded. Simply highlight the text you wish to tag, select the appropriate indicator(s) from your rubric, and add an optional comment to your tag. Sharing your tagged evidence with your principal is a great way to highlight specific ways you have grown throughout the year.

Sincerely,
Jenni
dearjenni@bloomboard.com

Have you heard our Dear Jenni theme song? Listen now.