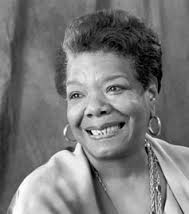 Life dealt Marguerite Ann Johnson many hardships from the beginning, but the once-young girl pushed through them all and rose as the great woman we know now as Pulitzer Prize Winner and Presidential Medal of Freedom honoree Maya Angelou. The author, poet, singer, actress, educator, activist, and all-around great soul has passed on the morning of May 28th, 2014 at age 86. Dr. Angelou, as she is called by many of her admirers though she did not attend university, was a celebrated literary voice among several generations and driving force behind many civil rights, education, and justice reforms. Her legacy will live on in our memories as we continue to work towards a better tomorrow.
I Love the Look of Words*
By Maya Angelou

Popcorn leaps, popping from the floor
of a hot black skillet
and into my mouth.
Black words leap,
snapping from the white
page. Rushing into my eyes. Sliding
into my brain which gobbles them
the way my tongue and teeth
chomp the buttered popcorn.
When I have stopped reading,
ideas from the words stay stuck
in my mind, like the sweet
smell of butter perfuming my
fingers long after the popcorn
is finished.
I love the book and the look of words
the weight of ideas that popped into my mind.
I love the tracks
of new thinking in my mind.
[Souce: Angelou, Maya. "I Love the Look of Words."

Soul Looks Back in Wonder

. New York: Dial Books, 1993. 14.]