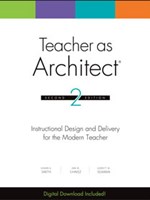 Blended learning is no longer just a niche topic in education. The adoption of blended learning solutions is on the uptick - according to iNACOL, 75 percent of US school districts had one or more students enrolled in a blended learning course in 2010, and online learning enrollments are growing by 46 percent a year1.
But despite the buzz around Blended Learning "tools" - software, courses, etc. - conversations about the role of professional learning in successful implementation are lacking. BloomBoard partner Modern Teacher is hoping to change this reality by focusing on preparing teachers to effectively deliver blended instruction using the Teacher As Architect (TAA) philosophy. TAA consists of four core principles for successfully implementing Blended Instruction:
1. Design a blueprint for classroom instruction
The blended classroom provides new possibilities for lesson design and classroom instruction over traditional classrooms. The first principle is all about using your knowledge of learning theory, cognitive development, scaffolding, and information processing to design a customized plan for your classroom. Rigor, pedagogy, and performance tasks should be woven into your instructional design to ensure that expectations are created, process and content are considered, and outcomes are identified.
2. Understand the 21st century learner
In order to create lessons that motivate and engage learners, you must first understand them. Today's students are mobile, adaptive, and digital and lessons should be customized to reflect this. It's important to leverage tech tools that use multiple learning pathways to customize the learning experience, provide opportunities for learning anywhere/anytime, and use a variety of technological options that take into consideration students' interests, learning style, and readiness level.
3. Implement the blueprint using a series of high-impact behaviors
The success of your blueprint comes in the execution. Principle three focuses on a series of high-impact teaching behaviors that should be used during implementation. These behaviors focus on:
Creating a positive classroom environment where students are encouraged to share their thinking with each other.
Questions that push students to explain their reasoning, analysis, and thought processes are abundant.

Feedback that is specific and connected to the academic content, and multiple opportunities for informal assessment are embedded into the lesson.
4. Collect and analyze evidence of student mastery
The last principle involves collecting and analyzing evidence of student learning from multiple sources to understand each student's mastery of specific content and readiness for new content. In addition to collecting this information, a common language must be developed around assessment, evidence, mastery, and readiness to help teachers effectively collaborate with one another. Ultimately, teachers are learners to and should be learning from each other to help identify weaknesses relative to learning outcomes.
Modern Teacher in Action
Fraser Public Schools, a Michigan district with with approximately 5,000 students in grades PK – 12, offered a comprehensive professional development program using the TAA Framework by Modern Teacher over the course of two years. Check out this study to see how the framework and materials supported their blended learning environment and watch the video below to hear first-hand how learning has been transformed.
If you're interested in learning more about TAA and other trends in professional learning, visit the Bloomboard Library and download the Teacher as Architect resource.
Share your Experience
Have you implemented a blended learning model at your district, school, or in your classroom? Share your experience with our educator community in the comments below.
BloomBoard believes that teachers are key to driving change in the classroom, and we aim to support their growth with the best professional development resources in the field. We are excited to have Modern Teacher as a partner in this work, and look forward to hearing more success stories from all of our educators.
---
About Modern Teacher Press

Modern Teacher® is an educational media company designed to support teachers and maximize teaching effectiveness in the digital world. We power the digital classroom by bringing our technology, classroom, and leadership experience together around three core competencies—Producing innovative professional development content for the modern classroom, developing a revolutionary professional development platform, providing a range of customized PD services for schools and districts.
To learn more about BloomBoard's content partnerships, send a note to content@bloomboard.com
---
[1] https://www.edsurge.com/blended-learning