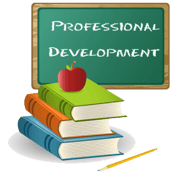 Professional development is one of the most important ways to build strong teachers and improve morale. When done well, PD addresses the school's needs and helps individual teachers build the skills they need to do their best work. Unfortunately, PD can become an exercise in compliance rather than real learning when teachers haven't bought into the topic or the format.
At BloomBoard, we understand the importance of helping teachers take ownership of their professional development. That's why we created the BloomBoard Marketplace, an online resource that gives teachers the opportunity to choose PD that addresses their individual needs. We've developed a list of best practices to help your teachers take advantage of the BloomBoard Marketplace and take charge of their learning. Here's how you can help your teachers get the most out of their professional development:
Create a Culture of Lifelong Learning


Bring back the joy of learning by modeling enthusiasm for staff. Share a personal challenge and the reward of learning something new from your own recent experience to get the ball rolling. Taking part in PD and experiencing it along with teachers is a powerful reminder that everyone in the building is working together on a common goal.



Jump-Start PD Exploration


To encourage teachers to make their own choices about PD, allow time to explore the BloomBoard Marketplace during a staff meeting. In small groups, teachers can click on offerings that sound interesting. Sometimes teachers don't know just how much valuable information is available, so allow time for browsing and brainstorming for inspiration. Need some ideas to get started? Check out these five ways to use the Marketplace to support professional learning.


Spark Discussion
A short video or article from the Marketplace can be a jumping-off point for productive discussion among faculty. Choose a topic that you want to highlight for building-wide improvement, and let teachers discuss what they see in small groups before reporting back to the whole group. Teachers can then dig deeper into the topic with additional resources and coursework in the Marketplace.


Spot-Check Your Work
Sometimes teachers are doing great work but need a little confirmation. Boost confidence by pointing out PD offerings that reflect what the staff is already doing well, then use it to create common language about techniques so everyone is on the same page. Giving teachers vocabulary to discuss their techniques can also help unify teachers across grades and subjects, which can create a more seamless learning experience for students.


Offer Choices
Instead of a school-wide workshop, try letting teachers choose their own PD topics from the Marketplace's free offerings. Giving teachers the power to choose PD that fits into their busy schedules is highly motivating, and you're likely to see better implementation of their learning in the classroom because they feel a sense of ownership and mastery.


Offer Incentives
Take it one step further by offering teachers incentives for participating in PD efforts. Incentives could include public recognition, certificates, bonuses — or whatever incentives make sense for your school. But be mindful that your incentives align with your overall goals and activities, and encourage teachers that these incentives are within reach.


Share With Teachers
Let teachers solidify their professional learning by teaching it to their co-workers. This could involve a rotating "Learner's Corner" column in a staff newsletter, sharing ideas in groups during the first 10 minutes of a staff meeting, or creating a community bulletin board to post positive PD experiences. Great ideas will spread like wildfire, and even the biggest PD skeptics are often receptive to ideas from their own colleagues.


Share With Students
Complete the culture of lifelong learning by encouraging teachers to share their own learning experiences with students. This can include discussing their challenges and successes. There are also several offerings on BloomBoard's Marketplace that can spark discussion in the classroom about how we learn and work together that will be of interest to kids as well as adults.
In what other ways do you support PD in your school? Share your thoughts on Twitter with the hashtag #profdev