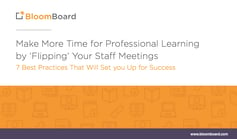 Administrators bend over backward to create positive learning environments for students, but they often neglect to do the same for teachers.
Instead of fostering discussion and producing results, staff meetings often become a dry series of announcements. It's no wonder that teachers dread the conference room. But staff meetings don't have to be this way. By borrowing methods from the flipped classroom approach, administrators can engage teachers and lead more productive meetings.
In this guide, BloomBoard CEO, Jason Lange, outlines seven tips to make staff meetings more efficient and build in professional learning time.