Collaboration is a key process for teachers and students alike. Evidence shows that small group learning experiences that encourage educators to reflect deeply about their practice can make a significant impact on student achievement. As an educator or school leader, how can you build or foster effective small group learning experiences? How can a collaborative learning community measure success?
To help answer these questions, we developed a short guide for building effective small group learning structures at your school. You can also view our Small Group Learning webinar and a themed list of resources in our BloomBoard Marketplace on building and maintaining your own Professional Learning Community to learn more.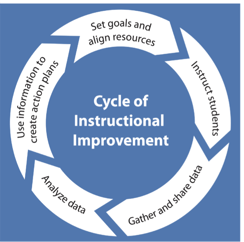 The Frame: Cycle of Instructional Improvement
The Cycle of Continuous Improvement, from an article by Joanne Weiss of the same name, can ground a small group learning community in a common process for setting goals, finding next steps to achieve those goals, and measuring success. The following guide outlines how small group learning communities can approach each step of the cycle and use each phase to structure collaborative conversations and positively impact student learning.

Step 1: Create actionable, measureable goals as a group.
Having a shared agreement on goals provides an immediate common focus. These goals should be succinct, focused, action-oriented, and most importantly, include a
what
and a
why
. You can use the BloomBoard sticky notes feature to easily keep track of goals. Here's an example of a great goal that focuses on the what--the action the teacher wants to achi
eve in the classroom--and the why--the impact it should have on students.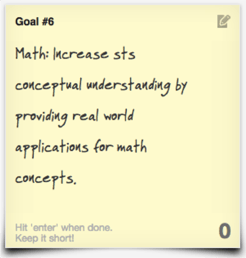 Step 2: Find aligned resources in the Marketplace to support your professional learning goal and make a plan together.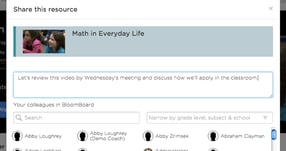 You can use the resources in the
BloomBoard Marketplace
to hone in on the most relevant and meaningful resources and share them with your small group ahead of time using the recommendation tools.
You can even include a message indicating why and by what date everyone should review the resource. Once your team has reviewed the resource, figure out how you will actually apply the strategies in the classroom. For example, an Algebra PLC may decide to design a series of projects as a group that integrate upcoming math standards and concepts with real world situations (such as a "mock business" project to help students grasp the concept of compound interest or a hands-on baking lesson to help students understand ratios and proportions).

Another example would be designing math word problems together that apply to real-world concepts (i.e. all guided notes used in class, homework assignments, quizzes, tests, exit tickets have real world problems to help students understand how the math concept applies to their daily lives).
Be sure to also identify a timeframe for implementing the strategy or intervention, and figure out what data the group will use to measure success.
What do you expect to do differently as a result of this resource?

What do you expect students to do differently? What behaviors, skills, or strategies do you expect to see?

How are you going to collect evidence to demonstrate progress?
Step 3: Try it out!
Practice and test your new strategies in the classroom!
Step 4: Assess efficacy and determine current state.
Use a protocol, like the Tuning Protocol, to guide your group in analyzing student and teacher work to determine how successfully the strategy was implemented.
What's a protocol?
A protocol consists of agreed-upon guidelines for a conversation and it is the existence of this structure that permits a certain kind of conversation to occur, often a conversation which people are not in the habit of having. Protocols are vehicles for building the skills--and culture--necessary for collaborative work. They create a safe space to ask challenging questions and listen. They help keep group conversations focused and ensure all members are heard.
Example: The Tuning Protocol:
To participate in the Tuning Protocol, educators bring samples of either their own work or their students' work on paper (and whenever possible, on video) in addition to some of the materials they have created to support student performance, such as assignment descriptions and scoring rubrics. In a circle of about six to ten "critical friends" (usually other educators), a facilitator guides the group through the process and keeps time. The presenting educator, or team of educators, describes the context for the student work uninterrupted by questions or comments from participants. The group then has the opportunity to ask clarifying questions and has ample time to examine student work. After this review, they provide the presenting educator with feedback and finally the session ends with a general reflection about the session itself. Check out more information and a detailed Tuning Protocol structure on the National School Reform Faculty Website.
Step 5: Track progress, reflect, and change course if necessary.
Finally, as a group, reflect on and discuss the following key questions:
What else do you need to know to determine next steps?

Where are you now? What does the existing data tell you about your practice? Do you move on to another goal or refine this one?

Where should you focus based on the data?
You can use Goal Progress Posts within BloomBoard to document collected data and reflect on strategies implemented to work towards the group's goal. The group can also use Progress Posts to document resources (in BloomBoard or externally) to spark new ideas.

And the cycle begins again!
To learn more about building small group learning communities, watch our recent Small Group Learning webinar or view this themed list around building and maintaining your own PLC.