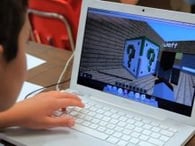 When used for the right reasons, technology can help augment the learning process. These five teaching resources from the BloomBoard Marketplace provide strategies for using 21st century tools to increase engagement and prepare your students for the connected world.
Flipped-Learning Toolkit: Let's Talk Tech [Article]
The greatest benefit of flipped learning is the restructuring of class time, which is more of a pedagogical solution than a technological solution. However, the in-class benefit is dependent upon the utilization of technology tools. So what technologies are necessary in a flipped classroom? Read this article to find out.
Introduction to the TPACK Model [Video]
TPACK, or Technological Pedagogical Content Knowledge, is a model that helps teachers consider how their knowledge domains intersect in order to effectively teach and engage students with technology. Learn more about TPACK and how you can combine your knowledge of content, pedagogy, and technology for innovative teaching and learning.
Emerging Trends & Technologies in the Virtual K-12 Classroom [Course]
Emerging technologies are quickly gaining momentum in the field of virtual K-12 instruction. In this course you will explore how the latest trends in technology affect student learning and engagement.
Text What You Learned: Using Technology to Assess [Video]
By using texting to assess learning, students can use technology in the classroom to give a response anonymously to their teacher and the class. How does this strategy benefit both the teacher and the students? What does using word clouds add to this strategy? Watch the video to learn more.
Teach Like a Techie [Book]
Searching for meaningful ways to integrate technology into your teaching? You can meet the digital natives on their own turf with this step-by-step guide to educational technology. Podcasts? Prezi? SMART Boards? Blogs? No problem, with veteran teacher and "Accidental Techie" Lori Elliott as your guide.